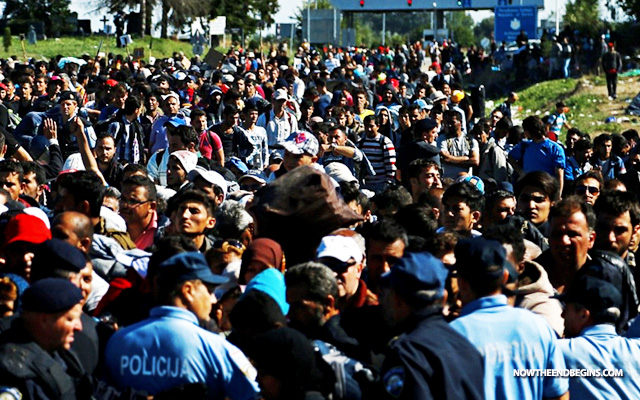 UN: Almost 220,000 Muslim migrants, a record, reached Europe by sea in October
GENEVA - A monthly record of 218,394 migrants and refugees arrived in Europe by sea in October, up from 172,843 in September, Adrian Edwards, a spokesman for United Nations refugee agency UNHCR, said on Monday.

"That makes it the highest total for any month to date and roughly the same as the entire total for 2014," he said. The UNHCR puts 2014 arrivals by sea at about 219,000.
UNHCR estimates that more than 600,000 people crossed the Mediterranean this year.
Greek island of Lesbos ran out of room to bury drowned Muslim migrants
The mayor of the Greek island of Lesbos says there's no more room to bury the increasing number of asylum-seekers killed in shipwrecks of smuggling boats coming in from nearby Turkey.
Greece's coast guard says it has rescued more than 1,400 people in 39 separate search-and-rescue operations in the eastern Aegean over the weekend.

The wave of people fleeing conflict and poverty to come to Europe is continuing unabated despite worsening weather conditions. High winds churned the Aegean over the weekend.
The chairman of the euro currency group says financially ailing Greece needs help dealing with the huge number of migrants arriving on its shores as they flee to Europe.

Jeroen Dijsselbloem told a group of reporters in The Hague that "we need to do as much as we can to help Greece deal with that. It's a major challenge, it's a humanitarian challenge and it cannot be done by Greece on its own."
Afghanistan says will take back all of its migrants deported from Germany
An Afghan official in Kabul says authorities will take back all Afghan citizens deported from Germany, which is struggling to accommodate the hundreds of thousands who have arrived this year seeking safety.

Afghans currently make up the second largest nationality, after Syrians, arriving in Europe.

The deputy presidential spokesman, Zafar Hashemi, says as a signatory to the Geneva Convention, Afghanistan is obliged to accept its citizens whose asylum applications have been rejected. He says Afghan President Ashraf Ghani and German Chancellor Angela Merkel have discussed the issue.

Germany's interior minister has said many Afghans who arrive will have to go home.

Officials say Monday that 120,000 Afghans have left the country so far this year.
Croatia
Police say a total of 307,000 refugees and other migrants have passed through Croatia since the surge of people spilled over from neighboring Balkan states.

Police spokesman Domagoj Dzigumovic said Monday that 8,400 entered on Sunday alone, which made it one of the busiest days since Sept. 16 when Hungary sealed its border with Serbia and the migrant route was diverted to Croatia.

Police in Slovenia said a total of 8,500 people arrived there by trains on Sunday and early Monday. This brings the total number of arrivals in the small Alpine country to over 126,000 since Oct. 17 when Hungary also closed its border with Croatia and migrants started crossing into Slovenia.
Czech Republic
The Czech Republic is sending a unit of 20 police officers to Slovenia to help the tiny Alpine nation cope with the influx of thousands of migrants and protect the external border of Europe's visa-free Schengen zone.
Following a decision to dispatch police officers in Slovenia, the Czech government has also approved a deployment of up 50 soldiers to help the tiny Alpine nation cope with the influx of thousands of migrants.
— Amy Mek (@AmyMek) November 2, 2015