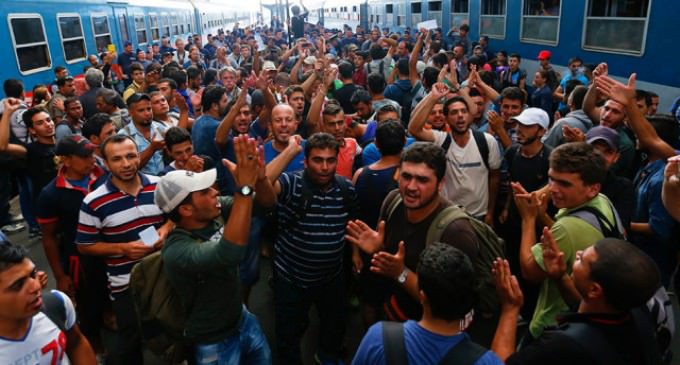 Hungary's PM: Muslims arriving in the country are mostly young men who "look more like an army than asylum seekers"
Hungary's prime minister says the refugees and migrants arriving in Europe are mostly young men who "look more like an army than asylum seekers."

Prime Minister Viktor Orban said Friday on state radio that while he did not reject the right of any country to try to solve its demographic problems "with young men from the Arab world who look like warriors," it was unacceptable "to have this forced upon Hungary."

Orban, who is advocating for global quotas for receiving migrants, says it is unfair for countries like the United States, the rich Arab states, Israel and Australia to expect Europe to take in the migrants while accepting few or none themselves.

He said that if Europe tried to solve the migration crisis and other global problems on its own, "we will crush the lifestyle ... values and strengths we have developed in the past several hundreds of years."
Germany has found no terrorists among Muslim migrants. Yet.
Germany's top security official says authorities so far have found no cases of terrorists with instructions to carry out attacks in the country mixing into the flow of incoming migrants.

Interior Minister Thomas de Maiziere said Friday that authorities have received tips from intelligence services that this could happen and "we look into every one of these tips," but so far such concerns haven't been confirmed.

De Maiziere said German authorities also are looking into whether the large number of migrants raises the risk of crime and there's "no general trend" so far — though he said there have been issues with a small number of refugees.

He added that among refugees from Syria, the largest single group arriving, there is no indication so far of "elevated general criminality."
Finland raises this year's estimates of Muslim migrants from 30,000 to 50,000, most of them are Iraqis
Finland says it now estimates the number of people to seek asylum this year to be closer to 50,000 that the earlier figure of 30,000.

The Interior Ministry said Friday some 11,000 asylum-seekers alone had arrived in September. Last year, some 3,600 people sought shelter in this Nordic nation of 5.5 million.

The vast majority of the refugees are Iraqis, among whom Finland has unexpectedly emerged as a top destination. According to official figures, some 12,000 Iraqis, or 70 percent of the applicants, have asked for asylum in Finland this year.

Only Germany, by far the biggest recipient of asylum-seekers, has seen higher numbers of Iraqis, who make up a small percentage of the migrants arriving in Europe overall.
Croatia: Number of Muslim migrants barging into the country since mid-September expected to reach 100,000
Croatian police say the number of migrants who have entered the country since mid-September could reach 100,000 on Friday.

Interior Minister Ranko Ostojic said more than 97,000 people have crossed so far and more are expected by the end of the day and overnight.

Croatia has been transporting the migrants coming to the country from Serbia toward the border with Hungary.
Hungary: Number of Muslim migrants seeking asylum in the country reached 92,265 in August, almost double the July number
The number of people seeking asylum in Hungary almost doubled in August as the government was building a razor-wire fence to stop migrants from entering the country from Serbia.

Figures from the European Union's statistical agency Friday show that 92,265 people applied for asylum in August compared to 49,250 in July.

That brings the total number of people seeking international protection there so far this year to around 207,000, according to Eurostat figures.

Most people arriving in Hungary travel overland from Greece and many try to move deeper into the EU bound for countries like Germany or Sweden.