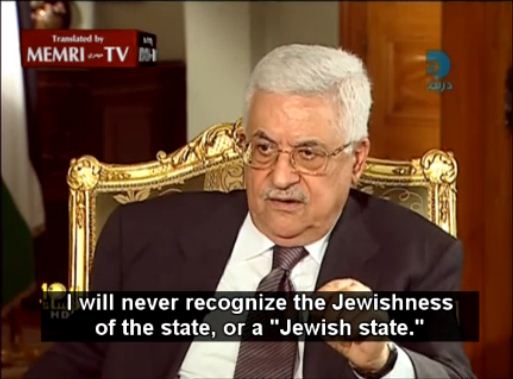 The quote above is from 2011 and serves as a background story for Abbas' latest statement.
(JPost) Palestinian Authority President Mahmoud Abbas denied the Jewish connection to Jerusalem on Tuesday, the same day he spoke by phone with both Defense Minister Ehud Barak and Prime Minister Binyamin Netanyahu's envoy Yitzhak Molcho.

Abbas issued a statement Tuesday, marking the 43rd anniversary of an attempt by deranged Australian Christian Denis Michael Rohan to set fire to al-Aksa mosque, saying that Jerusalem's Arab and Islamic identity was a Palestinian red line.

Highlighting the necessity of the protection of Jerusalem's Islamic and Christian holy sites, Abbas said "the fire, set by a criminal under the eyes of the Israeli Occupation Authorities, was the first [attack] in a series aiming to demolish al- Aksa mosque and build the alleged Temple in order to uproot its citizens, Judaize it and eternalize its occupation."

The statement read that all Israeli excavation work in Jerusalem, and tunnels underneath the mosque, "will not undermine the fact that the city will forever be Arabic, Islamic and Christian."

Abbas' statement warned against what it called "the dangers surrounding Jerusalem and its al-Aksa mosque by the Israeli government and municipality which aims to steal more lands and enact unfair legislations against the Palestinian institutions."

The statement concluded "that there will be no peace or stability before our beloved city and eternal capital is liberated from occupation and settlement."

Netanyahu's spokesman Mark Regev said in response that he hoped the Palestinian leadership was not denying the Jewish connection to Jerusalem, which goes back 3,000 years. "Ignoring that connection is to ignore reality," he said, and will do nothing to advance peace and reconciliation Regev said he was "disappointed" to hear the mainstream Palestinian leadership "echo outrageous conspiracy theories concerning the Temple Mount, conspiracy theories that are the usual domain of extremist elements." He added that only under Israeli control has Jerusalem enjoyed a period of unparalleled growth and development, under which the religious rights of all, and the holy sites, were protected.

"This is in stark contrast to the reality before 1967," Regev said.

The tone of Abbas' statement dispelled the notion that a series of phone calls recently might lead to a slight change in atmosphere.

More...